Drac Von Stoller Has Risen From the Grave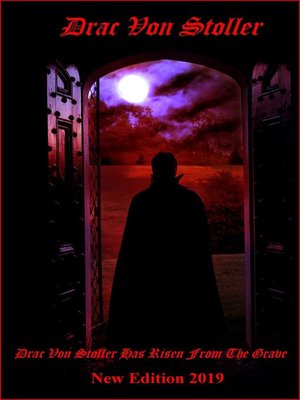 Sign up to save your library
With an OverDrive account, you can save your favorite libraries for at-a-glance information about availability. Find out more about OverDrive accounts.
Search for a digital library with this title
Title found at these libraries:
After Drac Von Stoller, and Nick Maundrell's takeover of the world in 666 days, Nick and his wife Isabella lived a simple life in Drac Von Stoller's old Castle for many years, but Nick wanted to be what Drac Von Stoller was and all that was on his mind was being the King of the Vampires. Nick just couldn't shake off the thought of just being Drac Von Stoller's right hand Vampire the rest of his life, so Nick decided to invite Drac Von Stoller to his Castle and poison him and drive a stake through his heart. With Drac Von Stoller out of the way Nick Maundrell would take over the throne and become King of the Vampires.
Nick sent the invitation by way of one of his henchmen on horseback. The henchman arrived a few days later and knocked on Drac Von Stoller's castle door. The rain was intense with a lot of thunder. The door opened, and Drac Von Stoller's servant answered, and said, 'May I help you?"
"Yes, I was sent by Nick Maundrell to deliver this invitation to Drac Von Stoller," replied Nick's henchman.
Drac's servant said, "I'll see that Drac Von Stoller receives the invitation."
Drac's servant entered Drac Von Stoller's study to deliver the invitation. The servant said,"Drac, I have an invitation that was just delivered by Nick Maundrell's henchman."
Drac placed his hand out, and the servant placed the invitation in Drac's hand, and Drac opened the invitation, and read it out loud. "Nick has invited me over to his castle for dinner tomorrow evening to celebrate our friendship and the takeover of the world."
Drac was excited to see his good friend Nick once again, but Drac's excitement about spending some time with his friend tomorrow evening would be short lived once Nick added a little poison to his drink. Drac told his servant he was going out for the night and would be hanging out with some friends at the Vampire Tavern.
Drac hopped in his casket shaped car and sped off down the road to the Vampire Tavern. Drac pulled into his parking space that was reserved for him, and stepped out of his car, and entered the Vampire Tavern for a night of drinking, and live music. Drac stepped up to the bar and the bar tender said, "Drac what can I get you tonight?"
Drac Von Stoller replied, "Make it a Bloody Mary on the rocks, Wolfman." The Wolfman howled, and poured Drac Von Stoller his Bloody Mary, and Drac Von Stoller gulped it down, and wiped the blood from his mouth, and slammed his glass down on the bar and said, "Pour me another, Wolfman, and make it a little stronger." The Wolfman poured him another then Drac said, "I'll see you shortly I'm just going to listen to my favorite band, "The Ghouls of the Night."
"Ok, Drac, I'll see you around," as the Wolfman howled.
Drac partied hard as he always does at the Vampire Tavern, but Drac knew the fun had to end before the sun would start to rise. Drac checked his watch, and downed a few more shots of Bloody Mary's, and said goodbye to the band, and staggered over to the bar, and said, "Hey! Wolfman, I'll see you tomorrow night."
The Wolfman replied, "I'll be here waiting to pour up some more Bloody Mary's for you when you return."
Drac exited the tavern, and got in his coffin car, and drove back to his castle to sleep just before sunrise. Then when the sunset he would head on over to meet Nick Maundrell at his castle for dinner and celebration, but for Drac Von Stoller the only thing that would be celebrated at Nick's castle would be his death.