In the Forests of the Night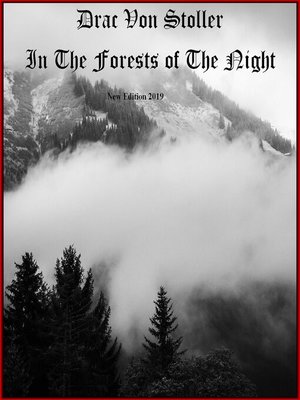 Sign up to save your library
With an OverDrive account, you can save your favorite libraries for at-a-glance information about availability. Find out more about OverDrive accounts.
Search for a digital library with this title
Title found at these libraries:
Deep in the forest, stands a mountain that has claimed the lives of many daring mountain climbers, known as Death Mountain, which is one of the tallest mountains in the world, at an approximate height of 32,000 feet.
The reason that so many climbers have lost their lives is because of health issues and extreme cold temperatures, as the climbers make their way through the jagged edges of the mountain. You can always count on an avalanche to be waiting for the next brave souls to risk their lives climbing to the top of Death Mountain. Not only is the mountain covered with mounds of snow, there is no hint of sunlight to light the climbers way, as they climb the treacherous journey to the peak of the mountain. Of course, there is always some hot shot climbers that think they are the ones who will be the first to stand at the top of Death Mountain and yell out "We made it!, and congratulate the rest of the brave climbers for such a heroic feat.
Here's where the story begins.
Jimmy Spencer and his friends Karen, Jackie and Tom were all avid mountain climbers and were always up for a challenge. They all dreamed of being heroes in their town. There wasn't much excitement in their town, so if Jimmy and his friends could climb the highest mountain and survive to tell about it, they would all be heroes. Jimmy knew the only way that would happen, would be if they could climb to the top of Death Mountain. The closest any one came to climbing that mountain was half way because of avalanches and extreme cold temperatures. It was too dangerous for helicopters or planes to fly above Death Mountain to search for lost climbers, so any search had to be done on foot.
Jimmy and his mountain climbing buddies were used to climbing in extreme temperatures, so they all thought if anybody could tackle such a feat, they were the team of climbers to do it.
Jimmy, Karen, Jackie and Tom decided they would all spend the night at Jimmy's cabin which was about twenty miles from Death Mountain. In the morning they would stop by for breakfast at Dave's Diner and discuss their history making feat on Death Mountain. Everyone piled into Jimmy's van and set off down the road to Jimmy's cabin to let their egos explode about how they were going to be famous in a couple weeks. The only fame these four mountain climbers would be getting is being splashed all over the major newspapers across the nation about their mysterious deaths.