Music From Heaven (Barbara Cartland's Pink Collection 144)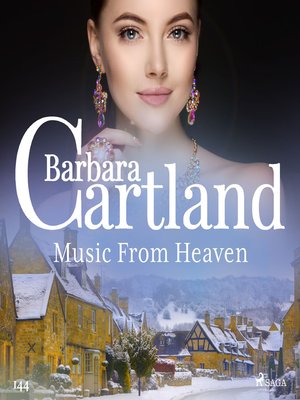 Sign up to save your library
With an OverDrive account, you can save your favorite libraries for at-a-glance information about availability. Find out more about OverDrive accounts.
Search for a digital library with this title
Title found at these libraries:
The beautiful Martina Bradshaw has sadly lost both her beloved father and her loving mother. They live in the little Kent village of Preston Bailey where her father, a talented musician, had written his music, which had never been successful with the public. Now Martina has to find a way of making money to pay her household of Mrs. Amos the cook and Lily the housemaid, although a near neighbour, Sir Alexander Palmer, has bought many of her father's music memorabilia that she has no use for and is now showing a keen interest in Martina's welfare. Another neighbour, the handsome Earl of Westfield, has a ten year old half-sister, Lady Anne, who is a difficult child and has been impossible to teach music to. So the Earl engages Martina to teach Lady Anne and she soon gains her trust. In the meantime one of her mother's old friends, Mrs. Elizabeth Carrington, invites her to a party in London and she unexpectedly meets the Earl at the Station and he drives her in his carriage to her destination. Later she plays her father's tunes on a piano at the party and a music publisher promises to issue them. When the Country Fair comes to Preston Bailey, everyone in the neighbourhood is drawn to the spectacle including the Earl and Lady Anne. It is a happy day, although trouble is brewing for Martina. How Lady Anne goes missing in a dreadful stormy night and is found in the Earl's maze by Martina, only to lose her again. How Lady Anne is rescued from a raging river and Sir Alexander Palmer's true intent towards Martina is revealed. And how Martina and the Earl find the love they have both been seeking is told in this fast-moving romance by BARBARA CARTLAND. Barbara Cartland was the world's most prolific novelist who wrote an amazing 723 books in her lifetime, of which no less than 644 were romantic novels with worldwide sales of over 1 billion copies and her books were translated into 36 different languages. As well as romantic novels, she wrote historical biographies, 6 autobiographies, theatrical plays and books of advice on life, love, vitamins and cookery. She wrote her first book at the age of 21 and it was called Jigsaw. It became an immediate bestseller and sold 100,000 copies in hardback in England and all over Europe in translation. Between the ages of 77 and 97 she increased her output and wrote an incredible 400 romances as the demand for her romances was so strong all over the world. She wrote her last book at the age of 97 and it was entitled perhaps prophetically The Way to Heaven. Her books have always been immensely popular in the United States where in 1976 her current books were at numbers 1 & 2 in the B. Dalton bestsellers list, a feat never achieved before or since by any author. Barbara Cartland became a legend in her own lifetime and will be best remembered for her wonderful romantic novels so loved by her millions of readers throughout the world, who have always collected her books to read again and again, especially when they feel miserable or depressed. Her books will always be treasured for their moral message, her pure and innocent heroines, her handsome and dashing heroes, her blissful happy endings and above all for her belief that the power of love is more important than anything else in everyone's life.