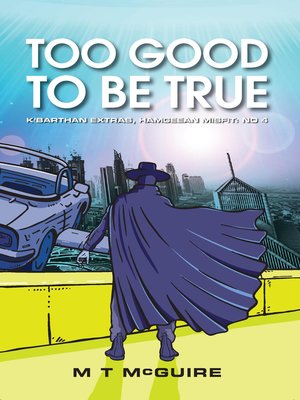 Sign up to save your library
With an OverDrive account, you can save your favorite libraries for at-a-glance information about availability. Find out more about OverDrive accounts.
Search for a digital library with this title
Title found at these libraries:
When trouble comes knocking meet the one man dumb enough to answer the door.
When The Pan of Hamgee encounters some mudlarkers trying to land a box on the banks of the River Dang he is happy to help. Having accepted a share of the contents as a reward he cannot believe his luck. It contains one of the most expensive delicacies available in K'Barth, Goojan spiced sausage. If he can sell it, the sausage might spell the end of his troubles. On the other hand, knowing his luck, it could bring a whole load more.
Suggested UK cinema rating for this one PG (parental guidance)
Too Good To Be True is the fourth book in the Hamgeen Misfit, dystopian science fiction humour (or humour) series. It is set in a contemporary dystopia with futuristic technology in a parallel reality.
INTERVIEW WITH THE AUTHOR
Q – Hmm ... More K'Barthan stuff. Is that a good idea?
A – I hope so. Amazingly, my readers asked for more so I suggested they tell me what they want to know. These are the results. But also, because I pretty much live in K'Barth anyway. The less brain power I have to devote to Normal Life the better as far as I'm concerned. Isn't there a saying, somewhere, that if the book you want to read hasn't been written, you must write it?
While I have to own up to a nod to reader requests here, I also wrote this series for me. A lot of it is a homage to the things I love: StarWars, Adams, Pratchett, Dr Who, StarTrek, Red Dwarf, Jasper Fforde jeez, even PG Wodehouse - oh to get anywhere close.
Hopefully, anyone reading will like the same things as I do: a bit of world building, strong characters, what, I hope, is pithy, witty dialogue (or dialog) and of course, characters who are flawed and stuff up, and are not beautiful, misfits, ne'r do wells etc. There's not one skinny woman in a leather jumpsuit anywhere in this series. I like writing characters who have zero combat skills, putting them in a situation where they could really do with knowing how to fight and seeing how they cope with nothing but their wits - I'm mean like that.
... Oh and of course the snurds. You've got to love a flying car, right?