The Kingdoms & the Elves of the Reaches: Complete Tetralogy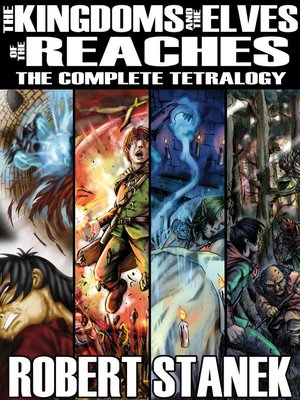 Sign up to save your library
With an OverDrive account, you can save your favorite libraries for at-a-glance information about availability. Find out more about OverDrive accounts.
Search for a digital library with this title
Title found at these libraries:
Enter a world of titans and dragons, men and elves. The #1 fiction bestseller! From #1 bestselling author Robert Stanek, the complete fantasy series that has been read and enjoyed by readers all over the world.
Book #1: Three unlikely heroes have the power to change everything. This powerful fantasy novel will delight the young and the young at heart. Inside, you'll discover the breathtaking world of Ruin Mist where the mystical and the magical abound, and you'll fall in love with a boy who would become a mage, a princess who is fleeing a dying kingdom, and a warrior elf who undertakes an epic journey.
Book #2 takes us deeper into the unraveling mysteries of a world being torn apart by unseen hands and ancient prophecies. Thirteen-year-old Adrina finally got her wish to journey beyond Imtal, but at a cost that weighs upon her soul. Vilmos's epic journey into manhood continues. Though he was forced to confront the powers within himself and to flee the only home he's ever known, he trudges on. Meanwhile, betrayed by his own people, Seth fights to survive against all odds.
Book #3 takes us one step further into the unraveling mysteries of a world being torn apart by ancient prophecies and the machinations of warring peoples. Galan, the beautiful lady elf, is dying. Her life hangs by the barest of threads and only Seth can save her. Vilmos's decision to train as a mage has come at a great price and now he must journey with Xith to the Mouth of the World.
Book #4 brings to a close the epic fantasy adventure of Adrina, Vilmos and Seth. Vilmos finds himself lost to the darkness within himself and at odds with everything he has even known. Back in Imtal, Adrina and Valam work together to turn more kingdomers and council members to the cause of the elves. Meanwhile, Emel has undertaken a journey to find answers about the Orb of Power.
Fully linked and cross-linked with links to individual books and chapters within books. Extras: Lost chapters and scenes restored; the meeting of Xith and Vilmos as originally written; the story of Ruin Mist completely unaltered to hint at the story's origins in ancient myth and legend.
"Sure to attract fans of graphic novels and classic Tolkien alike. Stanek will likely draw a cult following. This guarantees fans, and those fans will be ready to wield their swords against the Dark Lord in Stanek's next installment." –VOYA, the leading magazine for Young Adult librarians
"Robert Stanek is one of our most featured and respected Kids & Young Adults authors." –The Audio Book Store
"Word of mouth turned it into a bestseller. Very satisfying." –The Fantasy Guide
"Stanek [has] a penchant for clear and simple prose. He also prefers swift, action-oriented scenes. Solidly built. Stanek moves among his main characters with ease, always switching at a climactic moment to maintain suspense. The accessible, brisk language keeps things moving." –Foreword Magazine